Mattie provide the hair industry with a safer and more sustainable hair products
Our vision is simple: To use as many certified organic ingredients in all of our products as possible. Without toxic ingredients for your hair and the environment. Vegan semi-permanent hair dye? Vegan permanent hair dye? Vegan peroxide or vegan hair care? Mattie has them all!
MATTIE VEGAN PERMANENT HAIR DYE
Mattie Professional Nature - vegan Permanent Color Cream is an ammonia-free permanent hair color cream with an exclusive formula. It provides up to 100% grey hair coverage. The combination of specially designed color pigged mixes provide true-to-nature results. Concentrated pigments and increased active ingredients provide pigment to the cortex more effectively and enhancing conditioning of the hair fibers. The special formula withcertified organic ingredients gives hair brilliance, softness and it provides long-lasting retention.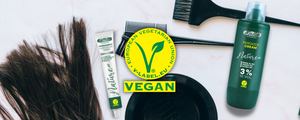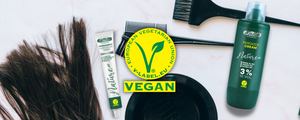 WHY MATTIE VEGAN HAIR DYE?
With our exclusive formula you make sure you make the right choice for your hair! Our hair dye is 100% vegan certified, without ammonia, without PPD, without parabens, without silicones, without mineral oils and it is made with hypo-allergic perfume. Actually as natural as possible!
OUR PEROXIDE IS ALSO 100% VEGAN
WE HAVE ALSO
MATTIE VEGAN SEMI-PERMANENT HAIR-DYE
Do you find it exciting to dye your hair or are you tired of your hair color? No problem! Mattie's hair dye is semi-permanent and lasts up to 14 washes. Mattie is the ideal solution for providing you temporarily with a striking hair color.
How about striking colors such as Lilac, Emerald Green or Special Pink? Or do you prefer a neutral shade such as Silver Gray, Jet Black or Red. In any case, all these colors are intensely covering and of high quality. Whichever color you choose, you are at least assured of a striking look. We want to give everyone the opportunity to enjoy intense colors without damaging the hair.
CHOICE OF 25 VEGAN SEMI-PERMANENT COLORS
Mattie Professional Nature - After Color Shampoo Vegan 1000ml
DO YOU ALSO WANT MATTIE PROFESSIONAL IN YOUR HAIR SALON?
If you are a hairdresser, you have come to the right place! Please contact our wholesale expert (wholesale@mattiepro.com) or from the contact form so we can assist you further with business purchases.